Home

Corn Salad (also called Lambs Lettuce) Vegetabl...
Corn Salad (also called Lambs Lettuce) Vegetable Seeds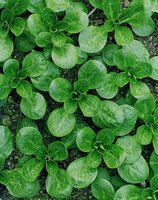 This is also known as Lambs Lettuce because it grows wild in the lambing season. It is very easy to grow. If you cover your plants in the winter they will keep producing through the cold weather.
---
Display per page

This will give you rosettes of smooth, spoon-shaped leaves prized as an early spring green. Fairly hardy this variety can be mulched with straw to overwinter in cold areas, or grown in a greenhouse. Sow seeds in late summer and autumn, and again in early spring. Price for 50 seeds




This is a gourmet's delight for winter salads: it develops into small, low growing rosettes of glossy leaves that have a slightly nutty, minty flavour. If you don't fancy a winter salad than serve hot: cook as you would spinach and serve with a drizzle of oil to complement the flavour.

Price for 50 seeds



This French heirloom makes a perfect choice for the colder seasons of the year. The flavour is delightful, mild and nutty. Growing slowly and steadily you can start to pick individual leaves after a few weeks; once it has produced its fourth pair. Price for 50 seeds.



---